Weihe Engineers is proud to partner with clients to help them Build with Confidence. Recently, we shifted our focus for a few hours to introduce the civil engineering profession to students. Most engineering companies have struggled to fill the highly skilled positions needed in our profession. We believe it is important to introduce as many students as possible to civil engineering, land surveying and landscape architecture to ensure a qualified workforce for developments of the future.
From January 13th to January 18th, we had a senior from Traders Point Christian High School job shadow our staff. He spent 25 hours with us asking questions about day to day activities and learning how the civil engineering industry produces designs that protect the health and safety of the public while providing practical, aesthetically pleasing solutions for communities. During that time, the student spent a day with each of our three departments: commercial engineering, land surveying and residential engineering. He met with our senior management to learn about each department, then spent time with project managers and designers to learn about the tools and skills practiced daily in our profession.
The student joined our commercial team for a project management meeting and was given the opportunity review a sample set of commercial construction plans with a follow up question and answer session with a Professional Engineer. While shadowing our survey department, he reviewed three types of surveys and had the unique syntax of a legal description explained to him. During time spent with the residential department, the student met with project managers and shadowed designers to see how AutoCAD is used to prepare subdivision construction plans.
On January 25th, Pat Sheehan, President of Weihe Engineers, visited with a Kindergarten/1st grade class at IPS Butler Lab School #60. He spoke to the class about the civil engineering profession and showed them some of the tools a civil engineer works with. He then led them in an immersive learning activity where the students teamed up to create their own city master plan by placing a water tower, parking lots, roads, and bridges.
Here's what the teacher, Ms. Cusick said about the activity: "We were so thankful for this experience! Such a wonderful thing happens when we have these rich experiences. Questions arise, such as when the students asked how do you build bridges over water since there is water there or when the students learn that engineers use math every day, just like they do. Through this our identities are continuously transforming. We are readers, writers, mathematicians, friends, creators, airport and airplane experts, and engineers. Around the room, I heard so many students squealing with excitement saying, "We are engineers now!"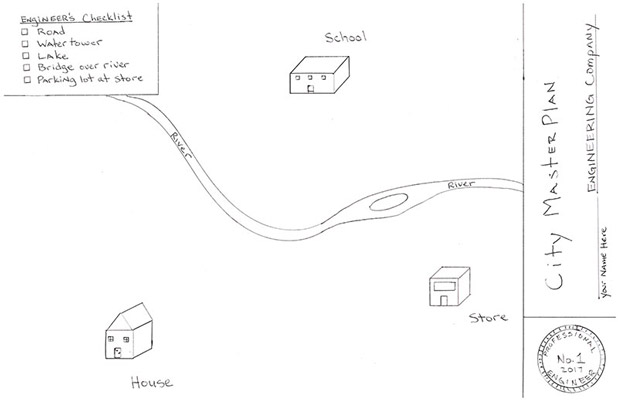 Blank Master Plan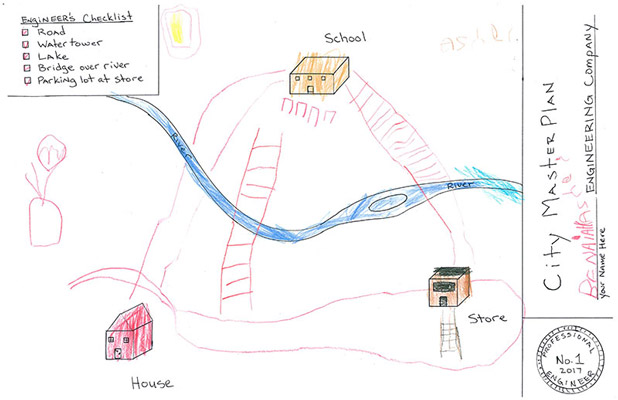 Completed Master Plan by Kindergarteners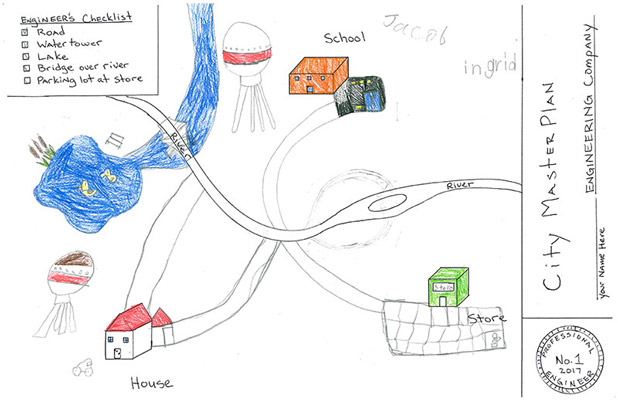 Completed Master Plan by First Graders
We hope that sharing our profession with students gives them useful insight into a potential career path and helps them understand the satisfaction of a rewarding career in civil engineering. We wish them the best of luck as they engineer their own future!
Follow us to stay Connected