At Weihe, we like to showcase our extraordinary employees and their passions. Recently Eric Carter completed the Ironman Louisville race on October 9, 2016.
"The weather was perfect for the event. It started with the swim, first upstream in the Ohio River about a ¾ of a mile then downstream for the rest of the 2.4 miles. I didn't notice the current of the river too much during the swim.
There was a short jog from the water to the Transition 1 (T1) tent and another short jog from T1 to where we were allowed to get on our bikes. I probably took more time than needed at the T1. Lesson learned…
The bike started out in downtown Louisville then headed out to La Grange and the countryside. The ride was brisk in the beginning, but then warmed up as the morning progressed. The race course passed several horse farms and groups of spectators. The City of La Grange was lined with spectators as we passed through multiple times due to the design of the bike course.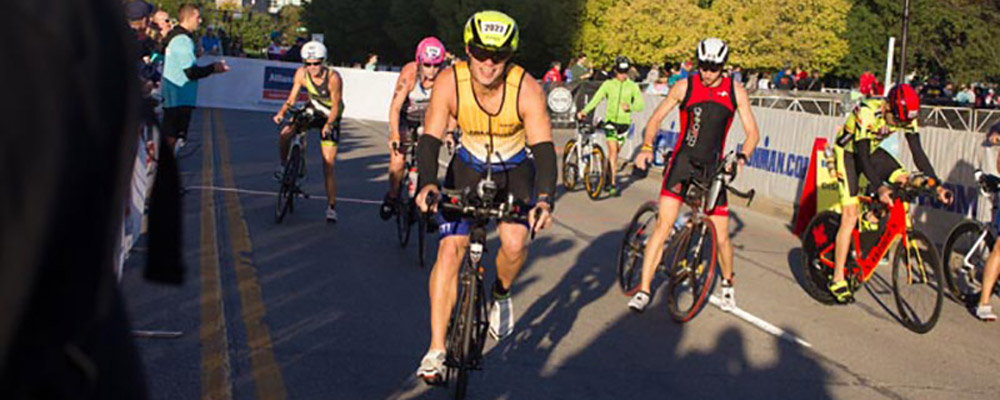 We returned to our starting point to dismount our bikes and then another short jog to T2. I felt that the execution of T2 was a little faster than T1. When checking my stats, I was correct in that I had improved my transition by a full minute.
The final leg of the race was the run. The course took us out through downtown Louisville then to Churchill Downs and back. The run course needed to be completed twice for the full 26.2 mile distance. The streets were lined with spectators cheering us on. At the start of the 2nd 13.1 mile loop they have you heading towards the finish line then making a right turn just prior to it. What a mean mental distraction for such a physical challenge!
The finish line was at 4th Street Live in downtown Louisville. Lined up on both sides of the narrow finish line were spectators and as I entered the finish hearing the words "Eric Carter you are an IRONMAN".
Even though it was a long challenging day, this experience was rewarding and I beat my goal of 14 hours.
What made me pursue this goal of completing an Ironman challenge? I have a background in swimming in high school, but after 20 years I had gained 110 lbs. I started swimming again 2 years ago and trained with a Couch to 5K program. My first triathlon was a sprint before I turned 40. Even though I was 39, they wrote on my calf 40, the age you are at Dec of that year. The sprint was a 500 meter swim, 9 mile bike and 5k run. I had lost about twenty pounds by that time but I didn't think I could finish the run and actually had someone ask if I needed medical help.
So far this change in my life has resulted in a total weight loss of almost 105lbs as of race day, in about 2 years. My next IRONMAN will be staying active and healthy."
Follow us to stay Connected