The Surveyor's Expanding Toolbox
At Weihe Engineers, we're always searching for new ways to make projects more efficient and provide value to our clients. Working at the intersection of technology and practicality, occasionally a significant leap is made in efficiency, economy and value. Land Surveyors are known for having a truck full of tools. Some that are proven producers, some that are on the testing block and others that don't do much, but are interesting enough to keep around. Look in the cab of a land surveyor's truck and you'll find notebook computers, lap top computers, data collectors, strobe lights, calculators, cell phones, Wi-Fi hotspots and a myriad of chargers to keep it all running. Check out the bed of the truck, under the security cover, and you'll find the really neat stuff…….GPS receivers, robotic total stations, automatic levels, and laser scanners. Any tool that can be deployed to measure the surface of the earth and improvements built on it can be found there. Some of these tools have broad measurement applications while others are built for very specific tasks.
The land surveyor's tool box has expanded rapidly over the last 25 years. From the 1800s through the 1960s surveyors used chains or steel tapes to measure distances. The advent of electronic distance measuring devices (EDM) in the 1970s gave the surveyor a tool that allowed measurement over distances up to ¼ mile with the push of a button. What an advancement! A measurement that took an hour or two with a steel tape now takes a couple of seconds. And this was only the beginning. Next came the Global Positioning System (GPS), giving us the ability to measure distances without maintaining line of site between two objects. With GPS, measurements can be made over several miles by simply setting the receiver over each point. Software advancements taking place alongside the evolution of measurement devices quickly improved the productivity of surveying. By 2000, land surveyors were making efficient use of GPS and robotic total stations, both instruments requiring only one person for operation. Suddenly, the 3 man survey crew became a 2 man or even a 1 man crew.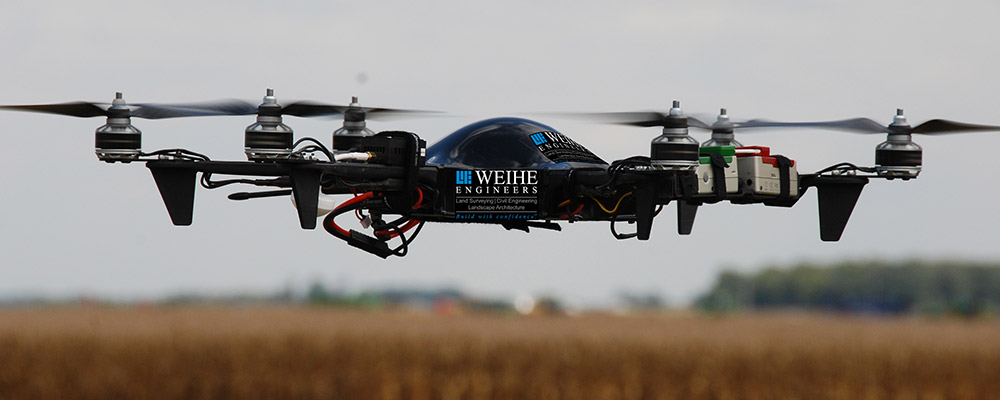 Now, we've reached another quantum leap in data collection technology. Drones, otherwise known as Unmanned Aerial Systems (UAS) or Unmanned Aerial Vehicles (UAV), have the ability to capture millions of data points in a matter of minutes. By flying over a site to take high resolution pictures at altitudes of 200 to 400 feet, drones capture a comprehensive set of site data. They provide accurate, up to date photographs of the site, spatial data to develop a 3-dimensional model of the site and even infrared imagery that can be used to assess plant health. Surveyors in Europe and Canada have been developing drone technology for survey use for about 10 years. The regulatory environment in the United States has delayed widespread drone use, but that is beginning to change.
Drones are being used today in the survey industry for aerial photography, topographic surveys, stockpile volume calculations, and construction inspections. There is no telling what uses will be developed for drone technology in the next few years, but we know that plenty of tinkering and imaginative thinking will take place as land surveyors continue to look for ways to expand their ever changing toolbox.
If you'd like to discuss UAS services available from Weihe Engineers, please contact our Vice President of Surveying, Brady Kuhn, P.S. at (317) 846-6611.
Follow us to stay Connected